A lambda grid system has been proposed as a huge computer grid system, based on an advanced photonic network technology. Grid computing provides the infrastructures that make a high performance virtual machine by combining PCs, data storages, various devices and etc. via networks. Participating dynamically vast resources about computing deployed geographically and operating in parallel with some PCs is the issue to realize grid environments. For the issue, vast data transfer is needed, such as resource information data, input data jobs need and output data. Then, to introduce WDM (Wavelength Division Multiplexing) and optical path for grid environment is under research. The grid environment is called λ grid.


Research Introduction
The Experiment of Inter Service Parts Connection Techniques
With the advance of ubiquitous society, we asuumes that an environment in which everything is connected to networks will come. We define a ubiquitous grid networking environment (uGrid) as follows: uGrid is an environment that everything all over the world can be defined as a service parts, it is possible to search for the service parts of the desire from all service parts in the world, those searched service parts are combined through the network and users can enjoy their desired service. In the uGrid, user uses other user's device when user connect to service parts. Therefore, it is necessary to control with the device on the connected user side concerning the communication from others. In this paper, to realize the ubiquitous grid networking environment (uGrid), we implement the experiment of inter service parts connection techniques that USB over IP device is controlled by Proxy.

Signaling Based Service Provisioning
Because of huge amounts of IPv6 address space, it can be expected that not only everything all over the world but also processing functions or other program functions run in computers such as image enhancing, video encoding, video decoding and so on, will be assigned IP address. We define processing functions or other program functions run in computers as "Service-Functions". Then, assuming that above environment will come, we propose a novel concept of service provision by combining the Service-Parts and Service-Functions which established by GMPLS in the future network.
The main idea of proposal is that extended RSVP (Resource reSerVation Protocol) signaling protocol is used. RSVP is a transport layer protocol which can provide specific levels of QoS(quality of service) by reserving resources such as CPU, buffer, bandwidth across a network. We extend RSVP to suit our proposal environment.
We implement a new multimedia communication service as an example of our proposal service which focuses attention on attention on Service-Parts or Service-Functions related to multimedia service. uGrid could realize the new video distribution system which meets various QoS(Quality of Service) users requirements by changing combination of Service-Parts and Service-Functions.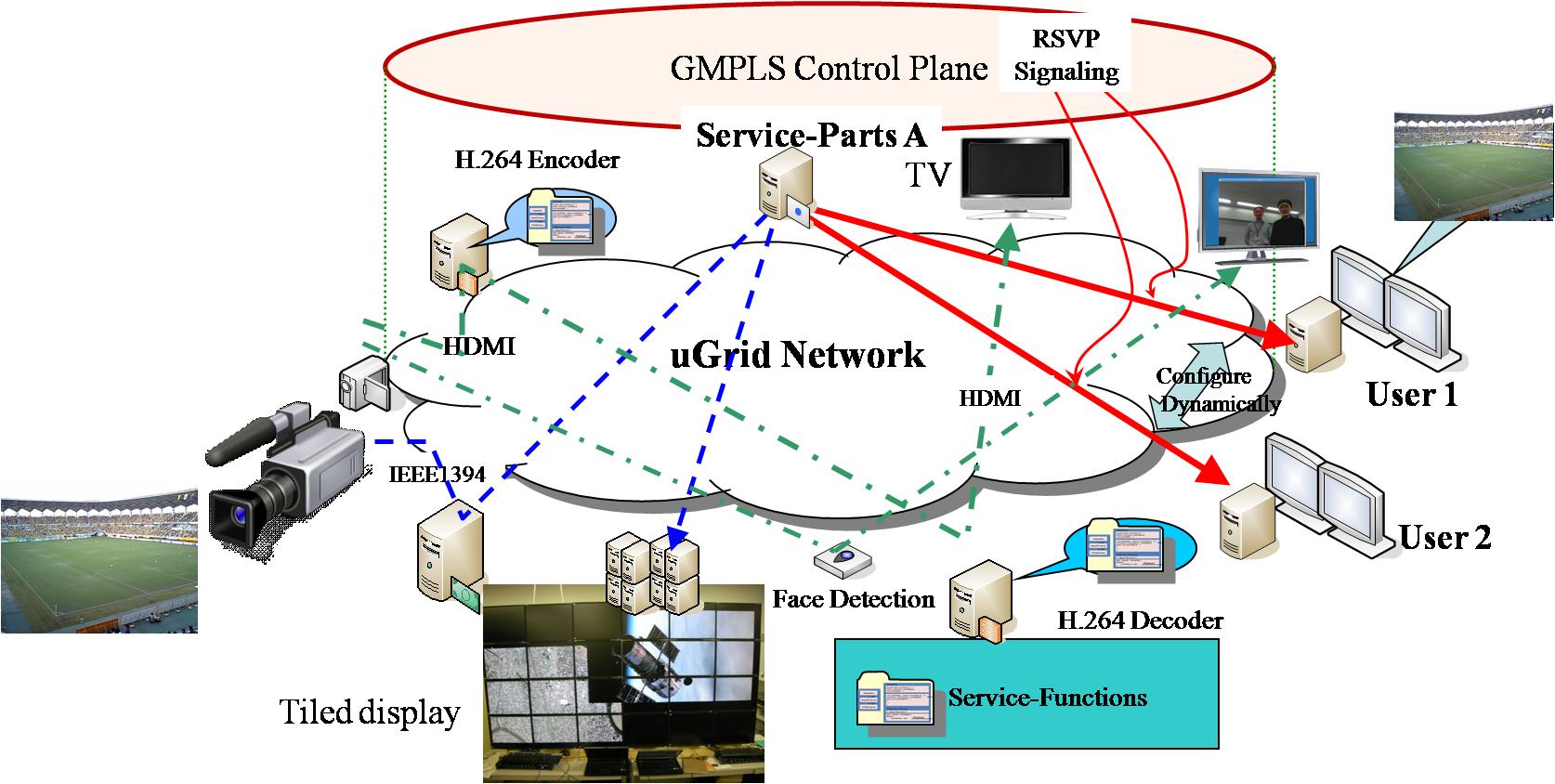 Publications
Satotu Okamoto, Yutaka Arakawa, Naoaki Yamanaka, "Proposal of the Ubiquitous Grid Networking Environment (uGrid)," The 2007 IEICE society conference, Vol. 2007-2, No. B-7-15, pp. 75, September 2007.
Satotu Okamoto, Yutaka Arakawa, Naoaki Yamanaka, "Research on the Ubiquitous Grid Networking Environment (uGrid)," IEICE Technical Report , Vol. PN2007, No. 25, pp. 23-26, October 2007.
Ryota USUI, Motomi AKAGI, Hiroyuki MIYAGI, Yutaka ARAKAWA, Satoru OKAMOTO, Naoaki Yamanaka, "The Experiment of Inter Service Parts Connection Techniques for Ubiquitous Grid Networking Environment (uGrid)," IEICE Technical Report, Vol. PN2007-92, pp. 105-110, March 2008.
Ryota USUI, Motomi AKAGI, Hiroyuki MIYAGI, Yutaka Arakawa, Satoru OKAMOTO, Naoaki Yamanaka, "Agenda of the Ubiquitous Grid Networking Environment (uGrid)," IEICE Technical Report, pp. 21, March 2008.
Motomi Akagi, Ryota Usui, Yutaka Arakawa, Satoru Okamoto, Naoaki Yamanaka, "Cooperating Superpeers based Service-Parts Discovery for Ubiquitous Grid Networking (uGrid)," The 7th International Conference on Optical Internet (COIN2008), C-16-AM1-1-4, October 2008.
Yusuke OKAZAKI, Yuki SUSA, Ryota USUI, Yutaka ARAKAWA, Satoru OKAMOTO, and Naoaki YAMANAKA, "Delay-Aware Scale-Free Display System under Widely Distributed Computing Network", TECHNICAL REPORT OF IEICE, Vol. PN-2008-28, pp. p19-24, October 2008
Yusuke OKAZAKI, Yuki SUSA, Ryota Usui, Yutaka ARAKAWA, Satoru OKAMOTO, Naoaki YAMANAKA, "Delay-Aware Scale-Free Display System under Ubiquitous Grid Networking (uGrid) Environment," IEEE Seoul Section International Student Paper Contest 2008, pp. 33-36, November 2008
Yusuke OKAZAKI, Yuki SUSA, Ryota USUI, Yutaka ARAKAWA, Satoru OKAMOTO, and Naoaki YAMANAKA, "Service Parts Connection based on Dynamic Lightpath Establishment in uGrid", TECHNICAL REPORT OF IEICE, Vol. 108, No. 476, pp. 29-34, March 2009
Yuki SUSA, Yusuke OKAZAKI, Ryota USUI, Yutaka ARAKAWA, Satoru OKAMOTO, and Naoaki YAMANAKA, "A Proposal of A uGrid Multi-Service Video Delivery Network Considers Security", TECHNICAL REPORT OF IEICE, Vol. 108, No. 476, pp. 99-104, March 2009
Yusuke OKAZAKI, Yuki SUSA, Ryota USUI, Yutaka ARAKAWA, Satoru OKAMOTO, and Naoaki YAMANAKA, "Architecture of Tiled Display", TECHNICAL REPORT OF IEICE, March 2009
Yuki SUSA, Yusuke OKAZAKI, Ryota USUI, Yutaka ARAKAWA, Satoru OKAMOTO, and Naoaki YAMANAKA, "Approach on PLAYSTATION 3 use in ubiquitous grid network environment (uGrid)", TECHNICAL REPORT OF IEICE, March 2009