A wide area layer-2 network provides high-speed virtual line services among customers' LANs. The virtual line can be called as a VLAN path, and can be established with VLAN technologies. A VLAN extended layer-2, namely Ethernet, frame has an extended VLAN ID/tag header. A layer-2 switch in the wide area layer-2 network forwards the layer-2 frame in accordance with the VLAN ID and the destination MAC address of the frame. Therefore, when establishing or tearing down a VLAN path, VLAN configuration of all layer-2 switches along with the VLAN path is required.


Research Introduction
Approach of Flexible-Switch for Next-Generation Layer-2 Networks
This work proposes a flexible switch for constructing of next-generation layer-2 networks. The proposed switch can dynamically implement a new service and a new protocol.A wide-area layer-2 network will provide many kinds of services including end-to-end QoS guarantees, protection mechanisms, and performance monitoring. When new protocols are developed, it is necessary to compatible them with existing networks. Thus, a complicated network structure and complicated protocol processing are introduced into the network. By using the flexible switch, protocol developers can design it freely, and propose the best protocol. Moreover, the next generation layer-2 networks will be controlled by GMPLS (Generalized Multi-Protocol Label Switching). Then, by using the flexible switch, we implemented that the switch loads a necessary function to provide the requested services when a LSP (Label Switched Path) is established by RSVP-TE. In this implementation, we realized the dynamic construction of the switch processing and the establishment of the LSP that adapted the services.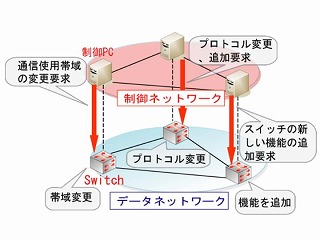 Fast Fault Recovery Method With Pre-established Recovery Table
To expand existing Ethernet for LAN (Local Area Network) to for WAN (Wide Area Network), there are many problems that should be solved in terms of reliability or scalability. One of these problems is a fault recovery.There are two major conventional fault recovery methods. One is protection, and the other is restoration. Both methods cause many frame losses when a fault occurs.To improve reliability of Wide Area Ethernet, a fault recovery method with little frame loss is required. Then, we propose a new fault recovery method with pre-established recovery table, in which nodes can send frames without waiting for path switching of the conventional fault recovery method to be completed. Our proposed method can be added to the conventional fault recovery methods seamlessly.
GMPLS-controlled Next-Generation Layer-2 Network
Wide area layer-2 service established by the carrier provides virtual private line (PATH) among customer's LANs. However, establishing PATH among actual network requires configuring VLAN to each switch on the path. These configurations had been traditionally set up by operators manually, but in accordance with the network expansion, setting up VLAN to all switches has been complicated.
GMPLS (Generalized Multi-Protocol Label Switching)-controlled Wide area Layer-2 network addresses these issues. The big feature of GMPLS is that it establishes communication path prior to data transmission, and is getting attention as a state of the art control technology for optical network. By applying GMPLS to Layer-2, it is possible to achieve autonomous distributed control of the network. Each switch exchanges control information to find optimal route and then configures VLAN to establish the PATH, so operators are unnecessary to setup manually like before. Additionally, because it is feasible to dynamically establish the PATH at a request of customer and able to manage services like QoS guarantee and bandwidth control, GMPLS is expected to be the next-generation control technology for Layer-2 network.
Currently, IETF has been standardizing GMPLS but the detail of the protocol is not yet determined. This study proposes a new approach for the standardization of GMPLS-controlled Layer-2 network, and verifies its effectiveness by implementation experiments.
Publications
Kou KIKUTA, Daisuke ISHII, Satoru OKAMOTO, Naoaki YAMANAKA, "An Experiment of GMPLS Controlled Gigabit Wide Area Ethernet," IEICE Technical Report, Vol. PN2007-32, pp. 13-17, December 2007.
Daisuke Ishii, Kou Kikuta, Satoru Okamoto, Naoaki Yamanaka, "An Experiment of Controlling Gigabit Wide Area Ethernet by GMPLS supporting Layer-2 Switching Capability," The Optical Fiber Communication Conference and Exposition and The National Fiber Optic Engineers Conference (OFC/NFOEC2008), No. OThB5, February 2008.
Masahiro Nishida, Sho Shimizu, Daisuke Ishii, Yutaka Arakawa, Satoru Okamoto, Naoaki Yamanaka, "Approach of Flexible-Switch for Next-Generation Layer-2 Network ," IEICE Technical Report, Vol. 108, No. 84, pp. 19-24, June 2008.
Satoru Okamoto, Hideki Otsuki, Tomohiro Otani, "Multi-ASON and GMPLS Network Domain Interworking Challenges," IEEE Communications Magazine, Vol. 46, No. 6, pp. 88-93, June 2008.
Satoru Okamoto, Sho Shimizu, Yutaka Arakawa, Naoaki Yamanaka, "Experiment of the In-band Message Communication Channel for GMPLS Controlled Ethernet," European Conference on Optical Communication 2008, September 2008.
Midori Terasawa, Masahiro Nishida, Sho Shimizu, Yutaka Arakawa, Satoru Okamoto and Naoaki Yamanaka, "Fast Fault Recovery Method With Pre-established Recovery Table For Wide Area Ethernet," International Conference on Photonics in Switching 2008 (PS2008), No. S-02-3, August 2008.
Masahiro Nishida, Hiroyuki Ishikawa, Sho Shimizu, Yutaka Arakawa, Satoru Okamoto, Naoaki Yamanaka, "Adaptive Resource Reservation Protocol for High-speed Resource Information Advertisement," The 14th Asia-Pacific Conference on Communications (APCC 2008), No. 15-PM1-E-4, October 2008.
Kou Kikuta, Masahiro Nishida, Daisuke Ishii, Satoru Okamoto, and Naoaki Yamanaka, "Implementation of VLAN Path Signaling with Domain Tag Swapping for GMPLS controlled Wide Area Layer-2 Network," COIN2008, Vol. C-16-PM1-1, No. 3, October 2008.
Satoru Okamoto, Tomohiro Otani, "Interoperability effort for ubiquitous GMPLS controlled optical networks," MPLS 2008, No. Weds 1-4, October 2008
Satoru OKAMOTO Kou KIKUTA Masahiro NISHIDA Daisuke ISHII Yutaka ARAKAWA and Naoaki YAMANAKA, "Experiments of transport and control protocols for next generation wide area Layer2 networks", IEICE Technical Report, Vol. OCS2008, No. 108, February 2009
Satoru Okamoto, Kou Kikuta, Daisuke Ishii, Shuichi Okamoto, Tomohiro Otani, Hideki Otsuki, "Multi ASON and GMPLS Domains Interworking Trials for Automatically Switched Ethernet VLAN Path Provisioning," The Optical Fiber Communication Conference and The National Fiber Optic Engineers Conference (OFC/NFOEC) 2009, No. NTuB1, March 2009
Satoru Okamoto, Sho Shimizu, Yutaka Arakawa, Naoaki Yamanaka, "Frame Loss Evaluation of Optical Layer 10 Gigabit Ethernet Protection Switching using PLZT Optical Switch System," IEICE Transactions on Communications, Vol. E92-B, No. 3, pp. 1017-1019, March 2009
Satoru Okamoto, Yutaka Arakawa, Naoaki Yamanaka, "Demonstration of the In-band Message Communication Channel and Mac-in-Mac technology for GMPLS Controlled New Generation Layer2 Transport Networks," The Optical Fiber Communication Conference and The National Fiber Optic Engineers Conference (OFC/NFOEC) 2009, No. JWA92, March 2009
Kou Kikuta, Masahiro Nishida, Daisuke Ishii, Satoru Okamoto and Naoaki Yamanaka, "Establishment of VLAN Tag Swapped Path on GMPLS controlling Wide Area Layer-2 Network," The Optical Fiber Communication Conference and Exposition, and The National Fiber Optic Engineers Conference (OFC/NFOEC) 2009 , Vol. JWA83, March 2009
Kou KIKUTA, Masahiro NISHIDA, Daisuke ISHII, Satoru OKAMOTO and Naoaki YAMANAKA, "Multi-Domain VLAN Path Signaling Method Having Tag Swapping Function for GMPLS Controlled Wide Area Layer-2 Network," IEICE Transaction on Communication, Vol. E92-B, No. 4, pp. 1353-1356, April 2009
Daisuke Ishii, Kou Kikuta, Masahiro Nishida, Yutaka Arakawa, Satoru Okamoto, Naoaki Yamanaka, "Experiments of GMPLS based layer2 path control functions for next generation wide area layer2," 5th International Conference on IP+Optical Network (iPOP2009), June 2009
Midori Terasawa, Masahiro Nishida, Sho Shimizu, Yutaka Arakawa, Satoru Okamoto, Naoaki Yamanaka, "Recover-Forwarding Method In Link Failure With Pre-established Recovery Table For Wide Area Ethernet," IEEE International Conference on Communications (ICC 2009), June 2009